There is no easy transition to becoming a caregiver. Alzheimer's comes with tough changes for patient, caregiver, and family. We recommend arming yourself with tools in order to give yourself support, knowledge, and tools to move forward.
Knowing helpful techniques can prevent potential meltdowns, frustrations, and stress. We put together a list of six books recommended by many caregivers, doctors, nurses, and family members.
The 36-Hour Day
About the book:
Through five editions, The 36-Hour Day has been an essential resource for families who love and care for people with Alzheimer disease. Whether a person has Alzheimer disease or another form of dementia, he or she will face a host of problems. The 36-Hour Day will help family members and caregivers address these challenges and simultaneously cope with their own emotions and needs.
Featuring useful takeaway messages and informed by recent research into the causes of and the search for therapies to prevent or cure dementia, this edition includes new information on
• devices to make life simpler and safer for people who have dementia
• strategies for delaying behavioral and neuropsychiatric symptoms
• changes in Medicare and other health care insurance laws
• palliative care, hospice care, durable power of attorney, and guardianship
• dementia due to traumatic brain injury
• choosing a residential care facility
• support groups for caregivers, friends, and family members
The central idea underlying the book―that much can be done to improve the lives of people with dementia and of those caring for them―remains the same. The 36-Hour Day is the definitive dementia care guide.
Learn more & read testimonials

Learning to Speak Alzheimer's
A pioneer in the care and treatment of Alzheimer's introduces her groundbreaking approach to dealing with the disease, offering a five-step approach to caring for people with progressive dementia while offering hundreds of practical tips that can make less threatening.
Learn more & read testimonials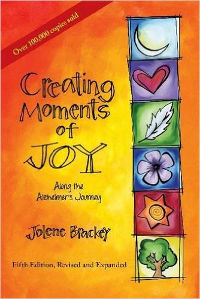 Creating Moments of Joy Along the Alzheimer's Journey
The beloved best seller has been revised and expanded for the fifth edition. Jolene Brackey has a vision: that we will soon look beyond the challenges of Alzheimer's disease to focus more of our energies on creating moments of joy. When people have short-term memory loss, their lives are made up of moments. We are not able to create perfectly wonderful days for people with dementia or Alzheimer's, but we can create perfectly wonderful moments, moments that put a smile on their faces and a twinkle in their eyes. Five minutes later, they will not remember what we did or said, but the feeling that we left them with will linger. The new edition of Creating Moments of Joy is filled with more practical advice sprinkled with hope, encouragement, new stories, and generous helpings of humor. In this volume, Brackey reveals that our greatest teacher is having cared for and loved someone with Alzheimer's and that often what we have most to learn about is ourselves.
Learn more & read testimonials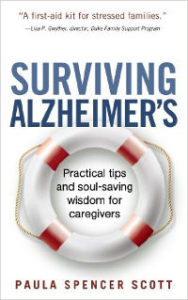 Surviving Alzheimer's
The book recommended by dementia experts and family caregivers as the most complete, practical guide to Alzheimer's and other dementias—now updated and expanded through end-of-life care.
This new edition of Surviving Alzheimer's offers the best, most current thinking on how to help a loved one with memory loss and related symptoms without sacrificing YOU. You'll learn:
What's behind odd, frustrating behaviors like repetition, wandering, personality changes, bathing resistance, and aggression—and what you can do
How to defuse resentment, guilt, and family friction
What to say for better communication and more cooperation
Special advice for spouses, out-of-town caregivers, and other specific situations
100s of confidence-raising solutions from top doctors, social workers, dementia specialists, and family caregivers
All in a fast, scannable format perfect for busy or overwhelmed dementia helpers.
Learn more & read testimonials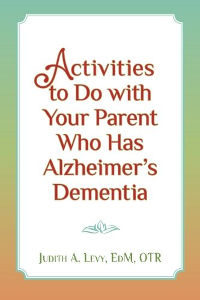 Activities to Do with Your Parent Who Has Alzheimer's Dementia
Activities to Do with Your Parent Who Has Alzheimer's Dementia provides a selection of user-friendly activities that will help maintain your parent's self-care skills, mobility, and socialization. These tasks encourage success and feelings of self-worth, and offer imaginative ways to interact with your parent. The Activity Assessment Form objectively allows you to look at each of these tasks. It can help to determine the setup and environment that works best with your parent. This written format is a tool which also encourages consistency between caregivers. In this book, you will find:
-Over fifty activity ideas with implementation suggestions
-Activity Assessment Forms
-Alzheimer's dementia support sources
-Caregiver burnout prevention ideas
-Definitions of frequently used medical terms
-Room by room safety suggestions
-Home and personal safety assessment.
Learn more & read testimonials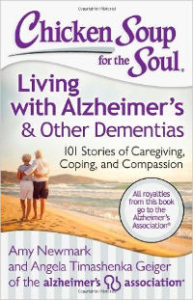 Chicken Soup for the Soul: Living with Alzheimer's & Other Dementias
Caring for a loved one with Alzheimer's or another form of dementia? You are not alone. With 101 encouraging and inspiring stories by others like you, this book is a source of support and encouragement throughout your caregiving journey.
Alzheimer's disease and other forms of dementia affect millions of people, and this book is especially for caregivers. This collection, a joint project with the Alzheimer's Association, is filled with 101 stories of love and lessons from others like you, will support and encourage you as you care for your loved one.
Learn more & read testimonials