JoNel Aleccia, Kaiser Health News and Melissa Bailey, Kaiser Health News
Photos by Heidi de Marco and Frank Carlson, PBS NewsHour and Randall Hill
With a bullet in her gut, her voice choked with pain, Dee Hill pleaded with the 911 dispatcher for help.
"My husband accidentally shot me," Hill, 75, of The Dalles, Ore., groaned on the May 16, 2015, call. "In the stomach, and he can't talk, please …"
Less than four feet away, Hill's husband, Darrell Hill, a former local police chief and two-term county sheriff, sat in his wheelchair with a discharged Glock handgun on the table in front of him, unaware that he'd nearly killed his wife of almost 57 years.
The 76-year-old lawman had been diagnosed two years earlier with a form of rapidly progressive dementia, a disease that quickly stripped him of reasoning and memory.
"He didn't understand," said Dee, who needed 30 pints of blood, three surgeries and seven weeks in the hospital to survive her injuries.
As America copes with an epidemic of gun violence that kills 96 people each day, there has been vigorous debate about how to prevent people with mental illness from acquiring weapons. But a little-known problem is what to do about the vast cache of firearms in the homes of aging Americans with impaired or declining mental faculties.
Darrell Hill, who died in 2016, was among the estimated 9 percent of Americans 65 and older diagnosed with dementia, a group of terminal diseases marked by mental decline and personality changes. Many, like the Hills, are gun owners and supporters of Second Amendment rights. Forty-five percent of people 65 and older have guns in their household, according to a 2017 Pew Research Center survey.
But no one tracks the potentially deadly intersection of those groups.
A four-month Kaiser Health News investigation has uncovered dozens of cases across the U.S. in which people with dementia used guns to kill or injure themselves or others.
From news reports, court records, hospital data and public death records, KHN found 15 homicides and more than 60 suicides since 2012, although there are likely many more. The shooters often acted during bouts of confusion, paranoia, delusion or aggression — common symptoms of dementia. They killed people closest to them — their caretaker, wife, son or daughter. They shot at people they happened to encounter — a mailman, a police officer, a train conductor. At least four men with dementia who brandished guns were fatally shot by police. In cases where charges were brought, many assailants were deemed incompetent to stand trial.
Many killed themselves. Among men in the U.S., the suicide rate is highest among those 65 and older; firearms are the most common method, according to the Centers for Disease Control and Prevention.
These statistics do not begin to tally incidents in which a person with dementia waves a gun at an unsuspecting neighbor or a terrified home health aide.
Volunteers with Alzheimer's San Diego, a nonprofit group, became alarmed when they visited people with dementia to give caregivers a break — and found 25 to 30 percent of those homes had guns, said Jessica Empeño, the group's vice president.
"We made a decision as an organization not to send volunteers into the homes with weapons," she said.
At the same time, an analysis of government survey data in Washington state found that about 5 percent of respondents 65 and older reported both some cognitive decline and having firearms in their home. The assessment, conducted for KHN by a state epidemiologist, suggests that about 54,000 of the state's more than 1 million residents 65 and older say they have worsening memory and confusion — and access to weapons.
About 1.4 percent of those respondents 65 and older — representing about 15,000 people — reported both cognitive decline and that they stored their guns unlocked and loaded, according to data from the state's 2016 Behavioral Risk Factor Surveillance System survey. Washington is the only state to track those dual trends, according to the CDC.
In a politically polarized nation, where gun control is a divisive topic, even raising concerns about the safety of cognitively impaired gun owners and their families is controversial. Relatives can take away car keys far easier than removing a firearm, the latter protected by the Second Amendment. Only five states have laws allowing families to petition a court to temporarily seize weapons from people who exhibit dangerous behavior.
But in a country where 10,000 people a day turn 65, the potential for harm is growing, said Dr. Emmy Betz, associate research director at the University of Colorado School of Medicine, a leading researcher on gun access and violence. Even as rates of dementia fall, the sheer number of older people is soaring, and the number of dementia cases is expected to soar as well.
By 2050, the number of people with dementia who live in U.S. homes with guns could reach between roughly 8 million and 12 million, according to a May study by Betz and her colleagues.
"You can't just pretend it's not going to come up," Betz said. "It's going to be an issue."
Polling conducted by the Kaiser Family Foundation for this story suggests that few Americans are concerned about the potential dangers of elders and firearms. Nearly half of people queried in a nationally representative poll in June said they had relatives over 65 who have guns. Of those, more than 80 percent said they were "not at all worried" about a gun-related accident. (Kaiser Health News is an editorially independent program of the foundation.)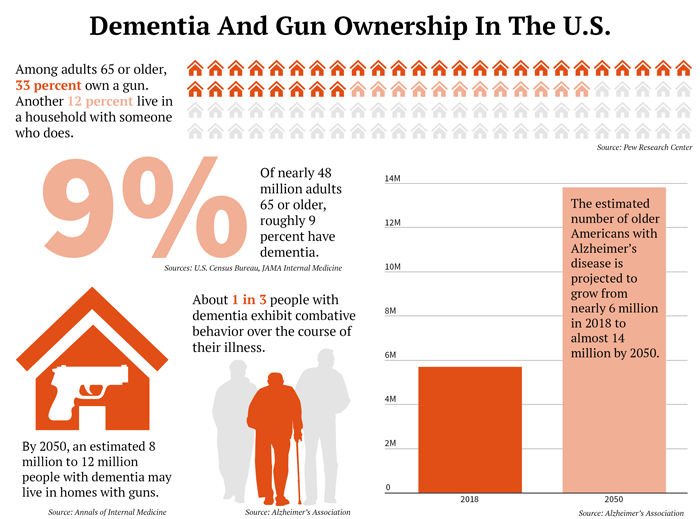 Dee Hill had ignored her husband's demands and sold Darrell's car when it became too dangerous for him to drive. But guns were another matter.
"He was just almost obsessive about seeing his guns," Dee said. He worried that the weapons were dirty, that they weren't being maintained. Though she'd locked them in a vault in the carport, she relented after Darrell had asked, repeatedly, to check on the guns he'd carried every day of his nearly 50-year law enforcement career.
She intended to briefly show him two of his six firearms, the Glock handgun and a Smith & Wesson .357 Magnum revolver. But after he saw the weapons, Darrell accidentally knocked the empty pouch that had held the revolver to the floor. When Dee bent to pick it up, he somehow grabbed the Glock and fired.
"My concern [had been] that someone was going to get hurt," she said. "I didn't in my wildest dreams think it was going to be me."
THIS BLOG POST IS A RE-BLOG. THE ORIGINAL CONTENT IS FROM CAREGIVER.ORG.