Are you visiting an elderly parent this holiday season? Is your parent living with a sibling who is the primary family caregiver?
Caregiving and a diagnosis like dementia can create tension within families – this is common and understandably challenging to navigate. 
Too often, the primary caregivers feel like their siblings need to be more involved, and family members outside the home get frustrated about the care provided. 
If you are visiting a loved one providing primary care, we have offered ten ways you can help lift the load while you are in town. 
We also listed ten signs that show a primary caregiver needs ongoing professional support – not because they aren't caring to the best of their ability, but because the needs of dementia patients eventually outweigh a family caregiver's capabilities. Professional care will become part of the process as a patient's needs evolve and the stages of the illness progress.   
10 Ways To Help A Caregiver 
Spend time with the patient so the caregiver can take personal time.

Be a listening ear. You don't have to give advice; listen and validate their experience.

Wash, fold, and put away laundry.

Clean the home or schedule a professional cleaning.

Do a home safety evaluation with the caregiver to reduce falls, injuries, and hospital visits. Click here to learn more.

Restock the pantry or contribute to the needed household or groceries items.

Purchase cleaning supplies, detergent, gloves, depends, toilet paper, and other things that get costly and used daily.

Ask the caregiver what you can do on a more regular basis to help them out.

Help purchase and install grab bars or other accessibility items.

Put together a small family holiday gathering, but do the prep work and cleaning, so it doesn't fall on the caregiver.
If you have concerns about your loved one's well-being (caregiver or parent), your concerns are valid! Caregiving is demanding; eventually, all family caregivers need professional help in the home. Remember, you might only have a partial picture of care. Ask these questions to get a better idea of what's going on.
Questions To Ask Your Primary Caregiver/Sibling
How are you doing?

What do you need from me while I'm here?

Have you balanced your needs and Mom's (or Dad's)?

Is there anything you want me to know about Mom's (or Dad's) health or doctors? 

What do you think Mom (or Dad) needs right now?

How did Mom's (or Dad's) last doctor's appointment go?

What do you need weekly to keep helping Mom (or Dad)? 
If family relationships are tense, getting a complete picture of everyone's needs might be challenging. However, you can use the warning signs below to determine whether it's time to discuss home health care.
Medication management is difficult

Patient behavior makes daily tasks challenging

Caregiver life is becoming increasingly unbalanced

Assisting patient with daily tasks is too difficult

The needs of the patient are greater than the skill of the family caregiver

Patient weight and overall health is decreasing

Noticeable decline in the tidiness of the home

Family caregiver health is declining

Patient needs are progressing

Home safety is poor
We hope families navigating the challenging waters of dementia come together this holiday to create a healthcare plan that works for everyone and allows the patient to thrive.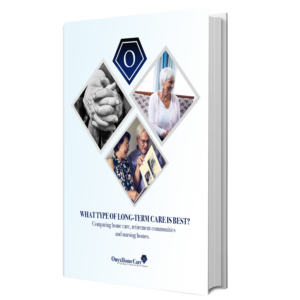 Choosing long-term care is a burden that often falls on adult children and family caregivers. Our team is here to support you throughout the journey. Download our booklet to explore options for your aging loved one and family.
Are you wondering what type of long-term care is best for you or your loved one? Our free booklet will help you evaluate the differences and costs between home care, nursing homes, and assisted living facilities.
Is It Time For Home Care? Take The Quiz
The burden of identifying seniors' needs initially depends on family members. Take the quiz to learn if home care is the next step.