Telling a loved one they should stop driving can be difficult.
While today's seniors are keeping their licenses longer, unfortunately, statistics show that fatal crashes increase considerably after age 70 and reach their peak among drivers 85 and older.
For many seniors driving serves as a form of independence, and taking away this freedom can be emotional and hurtful. 
The normal aging process decreases reaction time, creates vision problems, and leads to a decline in hearing. Elderly adults are unlikely to hand over their key at the appropriate time. Family members must facilitate this process.
To ease family tension, family members can ask a physician to bring up the subject. Allowing a physician to start the conversation can take the burden off family members and lets elderly loved ones hear the news from an authority figure. 
Dr. Gary J. Kennedy, director of geriatric psychiatry at the Montefiore Medical Center in New York City, "The more medications you take and the more medical conditions you have, the more at risk you are with driving." Seniors with arthritis, cardiovascular disease, dementia, glaucoma and macular degeneration, Parkinson's disease, and or history of stroke are at particular risk driving in later years. 
Unsure if your loved one should stop driving? If you are feeling hesitant to start the driving conversation on your own or asking a physician to address the issue, consider observing your loved one's driving as a passenger.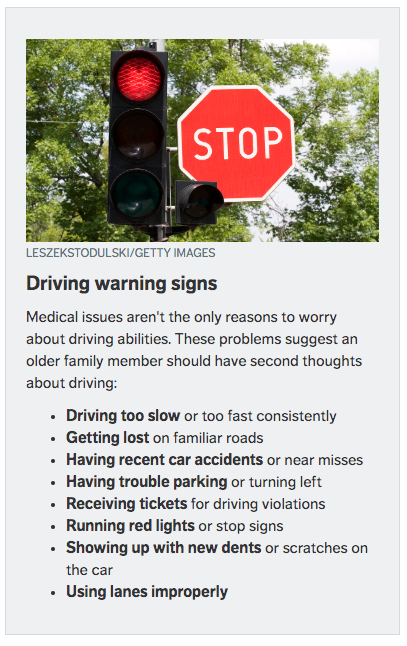 If you are struggling to start the driving conversation with your loved one Kennedy says to consider the following, "this is a clear indicator of peril, and it is time to retire from driving, not just for the sake of the driver's grandchildren but for all the other kids on the road." 
Remember, your loved one is not to blame. For your loved one to come to terms with the issue, encourage them to take a self-assessment questionnaire from the National Highway Traffic Safety Administration to see if any potentially problematic symptoms could affect their driving abilities. AARP also offers both classroom and online safety courses for older drivers; passing the course could lower your auto insurance premium.
Today's nondrivers have more options than ever before! You can help a senior that has stopped driving by setting them up with grocery delivery and teaching them to uses driving apps such as Uber or Lyft.  Home care also offers seniors support for going to doctor visits and other appointments.