Was your loved one recently diagnosed with a form of dementia? 
People with dementia are typically diagnosed in stage four. People in stage four have clear, visible signs of cognitive impairment and exhibit personality changes. 
I'm sure you notice symptoms well before a diagnosis. While doctor intervention can increase resources, validation, and support, the new journey can overwhelm many family caregivers. 
Dementia caregiving can be challenging and emotionally demanding, and all your feelings and concerns are valid.
You do not have to walk alone! 
Here are some tips that may help you in your role as a dementia caregiver:
Educate yourself about dementia: Learn as much as you can about dementia, including its symptoms, progression, and available treatments. This knowledge will help you better understand the behavior and needs of the person you care for.

Establish a routine: Create a daily routine for the person you are caring for, including regular times for meals, medication, and activities. A routine can help reduce confusion and anxiety and provide a sense of structure and stability.

Focus on communication: People with dementia may struggle with communication, so it is important to be patient and use simple, clear language. Avoid using complex sentences or asking too many questions at once. Try to speak in a calm, reassuring tone and maintain eye contact.

Be flexible: Dementia can be unpredictable, so be prepared to adapt to changing situations. Be patient and flexible, and try to anticipate the person's needs as much as possible.

Take care of yourself: Caring for someone with dementia can be stressful, so it is essential to take care of yourself too. Make time for self-care activities, such as exercise, hobbies, or spending time with friends and family. Seek out support from other caregivers or professional services if needed.

Consider professional help: Depending on the severity of dementia, you may need professional help such as a home care aide, adult day care, or a residential care facility. These options provide additional support and help ease the burden of caregiving.
We've also created a short list of six book every dementia caregiver should read:
Remember that dementia caregiving can be a challenging but rewarding experience. By caring for yourself and the person you are caring for, you can help improve their quality of life and make the most of your time together.
While dementia progresses at different rates depending on the specific diagnosis and individual, most people living with dementia and their family caregivers require home health care in stage five. At stage five, patients can no longer carry out regular activities of daily living, like dressing or bathing. As a result, it may be time for family caregivers to consider light home health care. When the patient's needs are too difficult for a caregiver to manage, it's time for professional help. Home health care allows the patient to remain in the comfort of home while getting the medical care they need and lifting the load for family members. 
Keep an eye out for your physical and mental health in addition to the changes your loved one experiences, as both can reveal signs that it's time for skilled in-home support.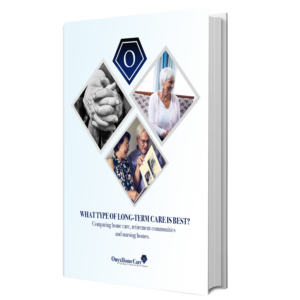 Choosing long-term care is a burden that often falls to adult children and family caregivers. Our team is here to support you throughout the journey. Download our booklet to explore options that are right for your aging loved one and family.
Wondering what type of long-term care is best for you or your loved one? Our free booklet will help you evaluate the differences and costs between home care, nursing homes and assisted living facilities.
Dementia & Alzheimer's Home Health Care
Dementia and Alzheimer's affects the entire family. Our team creates a system of support that gives both patient and family peace.
Onyx Home Care's neurological disorder care is built around a system of support. This service includes skilled home care as well as a unique program that centers on the patient's interests and stage of illness. Our goal is to see happy family members, patients and caregivers. Often times, caregivers feel remote. Our team includes each person in the home care process to provide inclusive care that helps the patient thrive.