In stage five of dementia, patients can no longer carry out regular activities of daily living, like dressing or bathing. By this point, family caregivers have seen clear signs of cognitive impairment and personality changes in their loved one for quite a while.
While many caregivers brave stage five on their own, eventually, hygiene and other daily battles become very difficult to manage alone. 
The following tips will help you when bathing a loved one with dementia. 
Prepare the bathroom in advance:
Gather supplies.

Make the room comfortable.

Place soap and supplies within reach.

Monitor water temperature.
Help the person feel in control:
Offer choices.

If the person is resistant, try again later.

Play soothing music or sing.

Protect their dignity and privacy, cover their private areas with a warm towel and make sure they are covered with a towel when undressing.
Adapt bathing processes:
Remember you preferences for bathing may not align with their capabilities or needs.

You may need to wash one part of the body each day of the week.

You can give the person a sponge bath between baths or showers.

Use a non-rinse soap product with warm, wet towels to clean the person..

Have a trained caregiver or nursing assistant come to the house to bathe the person.
After-bath care:
Check for rashes or sores.

Seat the person while drying.

Make sure they are completely dry.

Use cotton swabs between the toes.

Gently apply lotion.

Use cornstarch in creases or folds of skin.
The good news is that you don't have to walk alone! 
Home health care creates a literal support system for caregivers; skilled professionals can assist with personal care like:
Ambulation

Bath visits

Dressing and grooming

Feeding

Personal safety home evaluation

Outpatient pre and post-op assistance

Oral and personal hygiene

Reporting conditions and changes to supervisory RN and/or Physician

Toileting
And that's not all; home health care services can grow as the needs of the patient change. Likewise, families can scale services up or down as needs arise. 
Home health offers skilled services such as: 
Blood sugar testing

Elder care management

Exercise management

High-tech nursing

Home infusion therapy

In-home injections

Medication setup, administration and oversight

Occupation, speech and physical therapy in the home

Tube, drain and/or bag maintenance

Vital signs

Wound care
Dementia & Alzheimer's Care
Onyx Home Care's neurological disorder care is built around a system of support. This service includes skilled home care as well as a unique program that centers on the patient's interests and stage of illness. Our goal is to see happy family members, patients and caregivers. Often times, caregivers feel remote. Our team includes each person in the home care process to provide inclusive care that helps the patient thrive.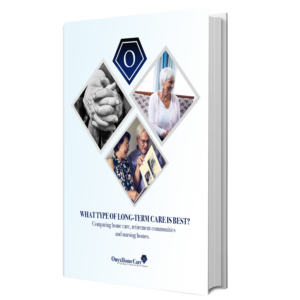 What Long Term Care is Best | Free Booklet
Choosing long-term care is a burden that often falls on adult children and family caregivers. Our team is here to support you throughout the journey. Download our booklet to explore options for your aging loved one and family.
Are you wondering what type of long-term care is best for you or your loved one? Our free booklet will help you evaluate the differences and costs between home care, nursing homes, and assisted living facilities.