Did you know that 50% of older adults have some form of incontinence? And incontinence can be a significant source of stress for caregivers, especially those caring for a loved one with dementia. 
The key to managing incontinence is being prepared, empathetic, and adopting the "matter-of-fact" attitude used by nurses to reduce embarrassment. 
Whether your loved one has received a diagnosis or just beginning the journey, it's critical to check in with a doctor. 
Incontinence can be a symptom of a weak bladder or pelvic floor, overactive bladder muscles, or damage to nerves from multiple sclerosis. Incontinence can also result from diabetes, Parkinson's disease, arthritis, or prolapse.  
Check with your loved one's physician. It's important to know if the incontinence is treatable or the result of an underlying condition.

Stay prepared during outings. Pack a small back with briefs, pads, wipes, and a change of clothes. Don't let incontinence make your loved one a recluse. 

Choose the right clothing. Pick clothing that is easy to take on/off, or if your loved one has dementia, you may want to pick clothing they cannot take off at an inappropriate time or place.

Watch your loved one's diet. Coffee, tea, soda, chocolate, and spicy foods can all worsen incontinence.

Be empathetic. Losing control of bodily function is a stressful health issue, both physically and mentally. 

Implement a bathroom schedule. A bathroom schedule can help reduce accidents and maintain a sense of control. 

Be straightforward during changes. Nurses and professional caregivers use an empathic and matter-of-fact tone while changing to reduce embarrassment. "Accidents happen, don't worry. Let me clean you up and get you into some dry, comfortable clothes."

Waterproof mattresses and furniture. Waterproof covers go a long way in reducing odors and making clean-up easier.

Accept help. If you have a physically or emotionally challenging time managing incontinence caregiving, seek the proper support.

Use cleaning agents to get rid of lingering odors. Experienced caregivers swear by OdoBan. Keep Lysol and other cleaners on hand.  
Incontinence can be uncomfortable, messy, and embarrassing, but preparation goes a long way in creating a supportive environment.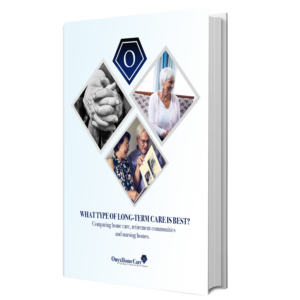 What Long Term Care is Best | Free Booklet
Choosing long-term care is a burden that often falls on adult children and family caregivers. Our team is here to support you throughout the journey. Download our booklet to explore options for your aging loved one and family.
Are you wondering what type of long-term care is best for you or your loved one? Our free booklet will help you evaluate the differences and costs between home care, nursing homes, and assisted living facilities.
Assistance with daily activities ensures your loved one is able to thrive in a familiar and happy environment.
As we age, basic daily tasks become difficult to manage. If you or a loved one is struggling to perform necessary daily tasks, it may be time for home care. Onyx Home Care professionals provide personal in-home care that gives aging adults the assistance they need while encouraging independence. Our personal care services include but are not limited to: eating, bathing, dressing and personal hygiene.