Family caregivers know their loved one best. When you believe something is wrong, trust your instincts! If you suspect a loved one with dementia or Alzheimer's is ill or acting unusual, contact their doctor and communicate with home health care nurses. 
Caregivers of dementia patients may question their hunches as the disease comes with many physical and emotional changes. When you face tough decisions and stress daily, it's easy to second-guess yourself. Of course, there is value in second-guessing your gut, but when caring for an elderly loved one, your instincts can play an important role.
For instance, UTIs in the elderly can look like confusion, falls, dizziness, aggression, fatigue, and decreased appetite. When your loved one cannot communicate what's wrong, your instincts can ensure they get needed care.
Rather than ignoring your hunches, gather critical information you can communicate with a doctor.
What to do when you have a hunch something is wrong:
Write down physical or emotional changes. 

Check all medication side effects and drug interactions.

Double check the medication is taken appropriately and at the right time of day.

Keep track of your loved one's diet, hydration, and bowel movements.

Determine how well your loved one is maintaining personal hygiene. 

Communicate with your loved one's doctors and home health care nurses. 
When communicating with your loved one's physician, the key is to go in with a plan. Share the critical information you gathered along with when the change occurred. If your concerns still need to be addressed, it's okay to get a second opinion, and it may be a sign that it's time for home health care. 
Home health care can start with:
Ambulation

Bath visits

Dressing and grooming

Feeding

Personal safety home evaluation

Outpatient pre and post-op assistance

Oral and personal hygiene

Reporting conditions and changes to supervisory RN and/or Physician

Toileting
Starting with personal care can help families get the additional support they need and provides an extra set of eyes. An RN or CNA can offer skilled eyes to validate concerns and ensure your loved one receives the proper care. 
Break out of analysis paralysis and the stress of daily care. Support during this critical time in life can ease fears and provide a sense of security as the changes associated with dementia progress. 
Onyx Home Care professionals provide personal in-home care that gives aging adults the assistance they need while encouraging independence. Our personal care services include but are not limited to: eating, bathing, dressing and personal hygiene. Personal care services give family members piece of mind that their elderly loved ones are receiving the help they need with daily life so they can flourish.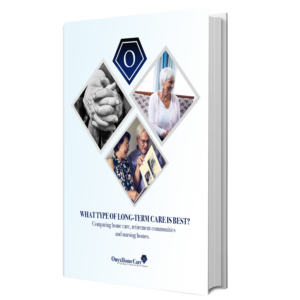 What Long Term Care is Best | Free Booklet
Choosing long-term care is a burden that often falls on adult children and family caregivers. Our team is here to support you throughout the journey. Download our booklet to explore options for your aging loved one and family.
Are you wondering what type of long-term care is best for you or your loved one? Our free booklet will help you evaluate the differences and costs between home care, nursing homes, and assisted living facilities.